Why Choose Salesforce Certification Courses Over Other Useful Programming Languages?
TechnologyWeb-development December 18, 2019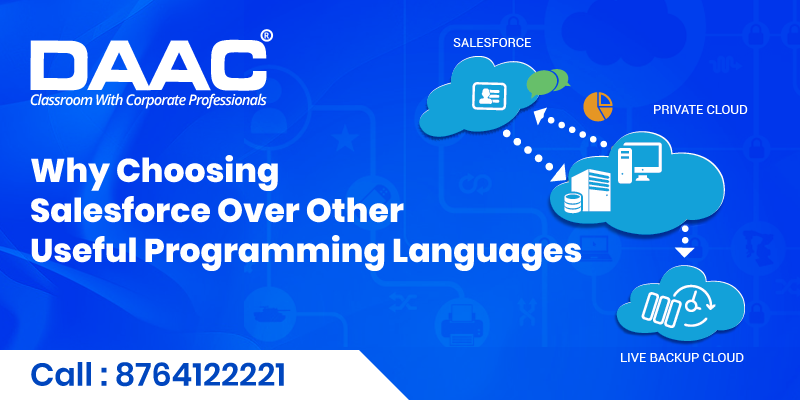 In the past few years, there has been a surge in cloud computing technologies. But, amongst the many who really had an impact in the world of computing is Salesforce. So, what is Salesforce? Where is it being utilized? Why are companies looking for professionals with Salesforce Training Certification? However, there are many institutions which provide Salesforce Training Certifications. But, only DAAC provides the best salesforce training in Jaipur.
How Did Salesforce Training Begin?
Prior to Salesforce, CRM's or Customer Relationship Management used to be hosted on a company's own server. Companies spent exorbitant cost and time to have their own CRM solution. It used to take months or even years and millions of dollars in expenditure for setting up a CRM solution. But, even after setting up a solution, it was even harder to use these solutions. So, what was the most feasible solution to this problem? Like you can imagine, this gave birth to the need for an affordable CRM solution on the cloud. This was the primary idea behind Salesforce, which began as a Software as a Service (SaaS) company, and has grown to become the fifth-largest company in the world. DAAC provides one of the best Certificated IT training institutes in Jaipur including the Salesforce Training Certification.
What Made Salesforce and Instant Hit?
Salesforce got an instant hit in the CRM market because it offered cloud computing. The product wasn't just available at a fraction of a cost and replaced the lengthy installations process with cloud computing, moving everything to the web. This changed the business model - no need for long-term contracts or expensive licensing deals. Anyone could access Salesforce with a simple monthly subscription of 50-dollars. You can experience the Salesforce revolution at DAAC, which provides the best training classes in Jaipur.
Why Salesforce Programming Languages?
Salesforce provides you with the fastest path from an idea to an app. Instead of focussing to build infrastructure and tools yourself, you can build your app. This can help you save years of time and millions of dollars in expenditure. Salesforce is known to its customers for three main reasons - Fast, easy and effective. Salesforce CRM software can be deployed in a matter of weeks or months but wouldn't take years. Users can spend less time figuring it out, and more time on building it. Salesforce can be customized to meet business requirements.
DAAC provides the best programming language training in Jaipur and teaches its students how to make use of Salesforce and its industrial importance. DAAC covers all magnitudes of Salesforce and provides the best Salesforce training Institute in Jaipur.
Although Salesforce is in the cloud and can be used from anywhere with access to the internet, it is essential to understand all aspects of the software and application across different industries. DAAC provides the best training Institute in Jaipur with guidance on the usage of Salesforce across different industries.
Salesforce is completely scalable for any company's growth. It seamlessly integrates with 3rd party apps. Unlike with other CRM, integration with Salesforce is quite easily done. It can be integrated with Gmail, accounting software, etc. Most companies are switching from their current model to Salesforce because it offers a variety of capabilities. Even startups and small businesses have started using Salesforce. Therefore, getting hand-on training on Salesforce will be crucial for those seeking employment as a CRM software developer.
DAAC provides the IT training in Jaipur and gives hand-on experience to students with Salesforce application and integration with Gmail, accounting software or any other software.
Statistics Which are Making Companies Choose Salesforce
Salesforce has become a dominant player in the market of CRM with a 19.7% market share and more than 150,000 customers since 2016. Some of its close competitors include SAP (12.1%), Oracle (9.1%) and Microsoft (6.2%), which are still lagging behind it. The Salesforce AppExchange features more than 2700 applications with over 3 million installations and customer base which uses 70% of apps installed in the AppExchange. Many companies are developing their applications on the Salesforce platform or are migrating to Salesforce. This has increased the demand for Salesforce developers and administrators. As of now, Salesforce Architect is one of the hottest skills in any tech resume. DAAC provides the best IT training in Jaipur upon the architecture, usage, integration, and application of Salesforce.
Enroll yourself in the best training Classes in Jaipur at DAAC and learn how you can boost your career as a Salesforce administrator, developer, and architect.