Step by Step Guide to Become a Professional PHP Developer
PHP November 27, 2019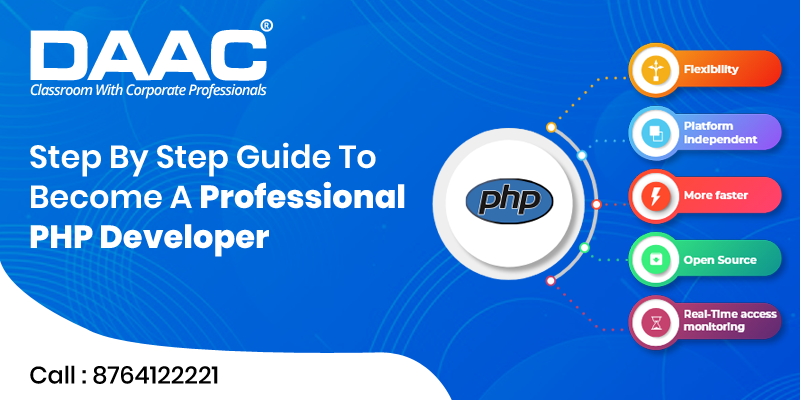 College degrees and certificates are not sufficient enough to become a professional PHP developer. In order to become a professional PHP developer one needs to have training in the field. DAAC, Classroom with Corporate Professionals is a recognized center for PHP training in Jaipur. It is one of the most trusted global institutions which can teach you how to become a PHP developer, by providing the required skill-set to work with both client and server-side technologies.
How to Become a Good PHP Developer?
Get a Grip on the Basics of the Web: 
The first and foremost step to becoming a PHP developer requires knowledge about the web and its functionality. Gaining an insight into the web will be beneficial in the long haul. But, knowledge should be tested to clarify the retention amount. Therefore, if you want to test your knowledge, then test yourself against the basics of the internet, server, clients, URL, domain, DNS, HTTP, session, and cookies. Skimming through the basics will help you to polish your skills as a PHP developer.
Gain an Understanding About the Basics of HTML and CSS
PHP has become one of the most recognized and popular programming languages since its advent. Apparently, there are almost 20 million domains that are using PHP to deliver a better user experience. Therefore, it is absolutely necessary to make sure that you should not only have the knowledge about web functionality but also about the basics of HTML & CSS. This includes the HTML document structure, tags, their purpose, Meta tag, CSS, CSS Selectors, CSS to HTML document, etc. All of this is being taught by DAAC, in their Web development course in Jaipur. Apart from this, the institution which is providing PHP training in Jaipur is also teaching about responsive designs and their functionality.
Try on a Development Environment:
After gaining the knowledge you should make sure to test it. However, in order to do so, you would need a PHP environment, which can be easily accessed by enrolling in a PHP developer course. Enrolling in a course will help you to not only enhance your skills as a developer but also give you access to the understanding of the development process in the industry. DAAC provides PHP training in Jaipur. Their course provides training to develop a PHP application, and a web server. The course also offers mandy handy tools for beginners.
Sustainability of PHP Knowledge:
Sustainability of PHP knowledge is very much important for all upcoming PHP developers. In order to do so, the developers should enroll in PHP training Course Jaipur. This will keep in the check of the upcoming changes in the field and prepare them for any industry opportunity. By enrolling for a PHP development course one can get expertise in PHP, Strings, Sessions, Arrays, Cookies, Control structure, etc. But, if you want to boost your expertise, then you can start learning about the design pattern in PHP: Singleton, Observer, Factory, Adaptor, and dependency Injection. DAAC's PHP course will help you learn to solve different problem scenarios.
Learn About MySQL:
In a programming language, MySQL is a relational database management system. It basically uses Structured Query Language and helps you to learn about the proven dependability, swift processing, ease and adaptability of use. DAAC's PHP course can assist you to increase your knowledge on this subject by training you on matters like what are the different data types that exist, CHAR & VARCHAR differences, types of keys, injection of MySQL, etc. DAAC PHP training institute will help you to produce advanced PHP development abilities.
Learn Java Scripts Before Coding:
Learning about JavaScripts is extremely important. DAAC teaches you how to become a good PHP developer by helping you learn about the fundamentals and basics of vanilla Javascript and jQuery. Gaining knowledge will enable you to boost your career as a PHP developer. Our team of experts giving PHP training institute will help you learn more by practicing regularly with written codes.
Join a PHP Community:
Magnify your knowledge of PHP development by joining a PHP community. Such communities help PHP developers to improve their skills. It also helps them to know about all the must-know things in the field of PHP development, and connect with people in the field. Joining a community will enable you to expand your network and help you to become more skillful.
DAAC is a renowned training center in Jaipur which provides superior certification with a team of certified professionals. Get training in Jaipur and become a  professional PHP developer with us. DAAC will help you to establish your presence in the PHP community.