Start Your Journey with Our Top-Rated IT Courses
Digital Marketing May 6, 2023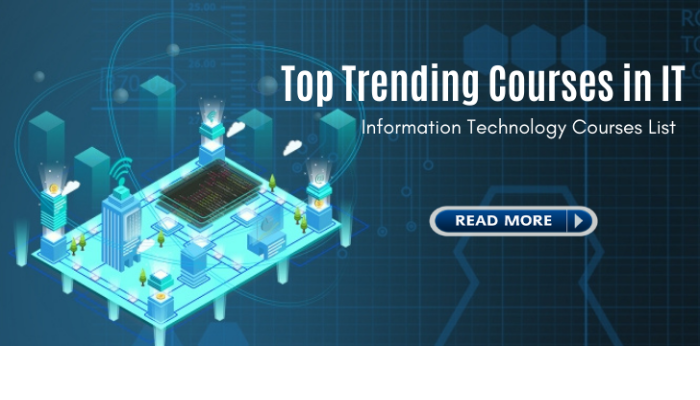 The field of technology is rapidly growing and evolving, with new innovations and breakthroughs emerging every day. Whether you're interested in web design and development, digital marketing, or other aspects of the tech industry, there's no better time to start your journey in this exciting field. At our institute in Jaipur, we offer a variety of top-rated IT courses designed to provide you with the knowledge and skills necessary to succeed in this dynamic industry. In this article, we'll explore why our courses are the perfect place to start your tech journey and what sets them apart from the competition.
Why Choose Our Top-Rated IT Courses?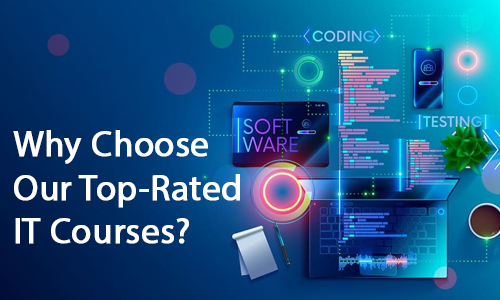 There are many reasons why our courses are the best choice for anyone looking to start their journey in tech. Here are just a few of the key benefits of our courses:
Experienced Instructors: Our instructors are experts in their fields with years of experience in the tech industry. They are passionate about sharing their knowledge and helping students succeed.
Comprehensive Curriculum: Our courses cover a wide range of topics and provide a well-rounded education in IT. From basic programming concepts to advanced web development techniques, our curriculum is designed to prepare you for a variety of tech careers.
Hands-On Experience: We believe that the best way to learn is by doing, which is why our courses provide ample opportunities for hands-on experience. You'll have the chance to work on real-world projects and develop practical skills that you can apply immediately in your work or personal projects.
Flexible Learning Options: We understand that our students have busy lives and schedules, which is why we offer a variety of course formats to suit your needs. Whether you prefer to attend classes in person or online, during the day or in the evening, we have a course schedule that works for you.
Supportive Learning Environment: Our students and instructors are supportive and collaborative, providing you with a network of peers and mentors to help you succeed. We also offer career guidance and support, including job search resources and interview preparation, to help you find and land the job you want.
Course Offerings
Our courses cover a wide range of topics in the field of IT, including: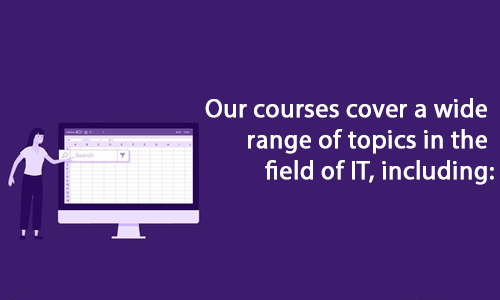 Web Design and Development: Our web design and development courses cover everything from basic HTML and CSS concepts to advanced web development techniques. You'll learn how to create responsive websites, develop interactive web applications, and optimize your code for search engines and user experience.
Digital Marketing: Our digital marketing courses cover topics such as social media marketing, email marketing, search engine optimization (SEO), and analytics. You'll learn how to create effective marketing campaigns, measure their success, and optimize your strategies based on data.
Programming: Our programming courses cover popular languages such as Python, Java, and C++. You'll learn how to write efficient code, debug errors, and create functional programs for a variety of applications.
Data Science and Analytics: Our data science and analytics courses cover topics such as data visualization, machine learning, and statistical analysis. You'll learn how to collect, analyze, and interpret data to make informed decisions and drive business growth.
Cybersecurity: Our cybersecurity courses cover topics such as network security, cryptography, and ethical hacking. You'll learn how to protect against cyber threats, identify vulnerabilities, and develop secure systems.
In addition to these courses, we also offer specialized training in areas such as cloud computing, mobile app development, and database management.
Conclusion
If you're looking to start your journey in tech and gain the skills and knowledge necessary to succeed in this exciting field, our top-rated IT courses are the perfect place to start. Our experienced instructors