Top 8 reasons why you should learn digital marketing in 2022.
Digital Marketing January 28, 2022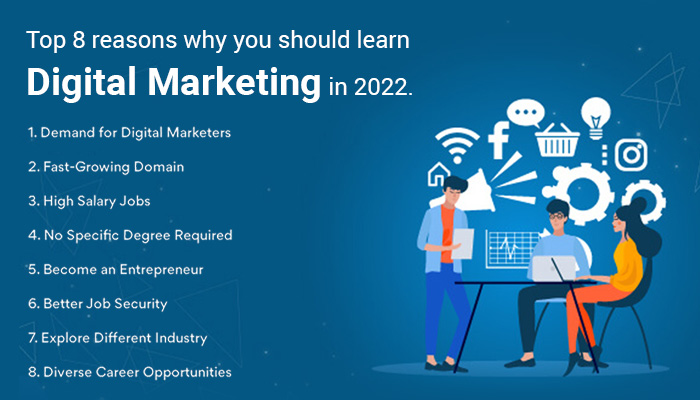 Benefits of a digital marketing career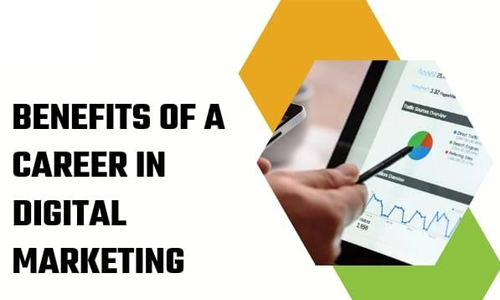 1. Demand for Digital Marketers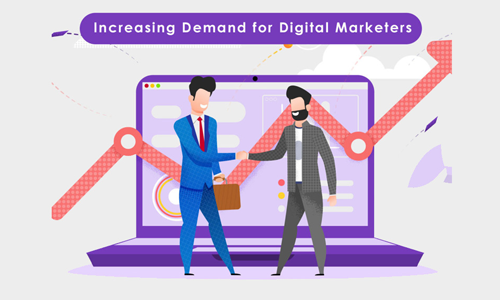 Every business is shifting to digital advertising from the traditional marketing methods.
In order to survive these marketing trends, companies are looking for digital marketers to help them out.
With the demand and scarcity in supply of digital marketers, companies are ready to pay a good salary package to the right individuals.
In fact, according to a recent study 4/10 jobs require digital marketing skills nowadays.
This report shows that digital marketers are in great demand and you'll reach heights by learning this most in-demand skill.
2. Fast-Growing Domain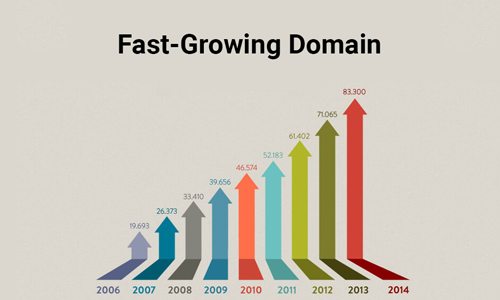 The digital marketing industry is growing at a rate of 14% and experts predict it will reach 24-37% at the end of 2021.
Many companies are embracing the benefits of digital marketing for many reasons now.
One of the major reasons is, the growing opportunity to meet their customers at the right time and the right place.
As targeted advertising can increase businesses ROI which is possible only with digital marketing.
Therefore, digital marketing will evolve further and hold a great career pathway for individuals.
With the increasing demand of digital marketers and outrageous number of internet users, there will be no scarcity for job opportunities.
3. High-Salary Jobs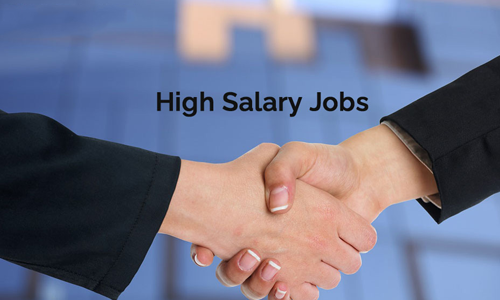 As we discussed earlier, digital marketers are in high demand but availability is low. Keeping this in mind, you can predict how the value of digital marketing will increase in upcoming years.
Therefore, when you are applying for a digital marketing job you can negotiate your salary and expect high remuneration.
4. No Specific Degree Required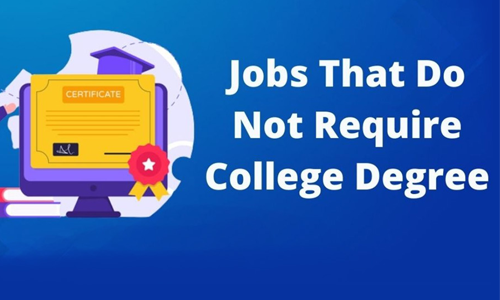 If you wish to pursue a career in digital marketing, then you can go ahead without worrying about educational background.
The academic qualifications hold little or no importance when it comes to digital marketing.
Yes, it will be more simple and easier for a marketing student or professional to understand the principles of digital marketing.
However, this does not mean it will be hard for others. If you're really passionate about learning digital marketing, then think out of the box and take up a course.
5. Become an Entrepreneur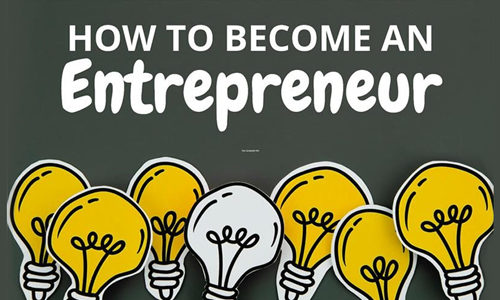 If you are planning to start your own business and become an entrepreneur, ensure to learn digital marketing skills.
By learning, you can either start a digital marketing agency or promote your own business conversion rate.
By pursuing a digital marketing course, one can easily generate revenue by targeting the right audience.
Using analytical tools, you can also track your progress and implement better strategies.
6. Better Job Security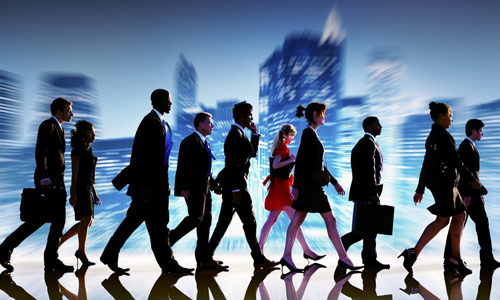 If you want to stay assured with job security, it's the right time to equip some digital marketing skills.
Due to the growing demand of digital marketing technologies, the job opportunities will only advance further.
For instance, COVID -19 pandemic majorly affected most of the companies, but digital space didn't let them down.
Most Companies adapted digital transformation to reach their potential customers. Some experts found that digital marketing is said to be a 'recession-proof career'.
7. Explore Different Industry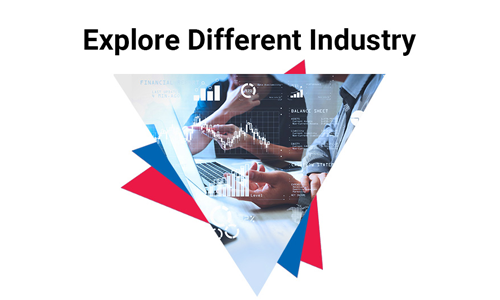 You have the freedom to switch between different fields in the digital marketing industry, so learn digital marketing.
However, Digital marketing applies to various sectors in the world. Some of the popular fields include pharmaceuticals, fashion, education, service, etc.
Hence, Digital marketing will help you to efficiently grow and build a lucrative career path in every sector.
8. Diverse Career Opportunities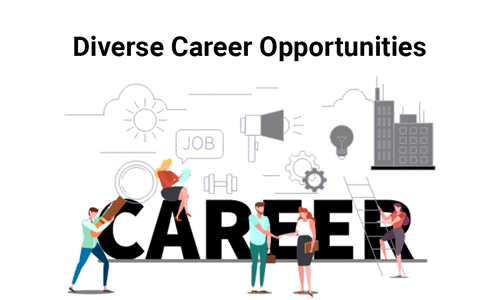 Digital marketing offers a wide range of career opportunities for fresher's as well as experienced professionals.
You can find an ideal field that matches your interest in this vast digital field.
By learning digital marketing, you not only specialize in one skill but with multiple skills.
However, some widely popular digital marketing fields that you can choose as follows, SEO Expert, Social Media Manager, SEM Expert, Analytics Manager, and Content Marketing Manager, etc.
Final Thoughts
The digital industry is booming with new career opportunities everyday. You can understand how much digital marketing is predicted to grow in the upcoming years.
Therefore, it's the right time to kick-start your career in the digital marketing industry.
Now, you don't need to worry about finding the course that meets the needs of your demands.
Fortunately, DAAC provides a complete set of digital marketing courses for every aspiring student to master the ever-evolving skill.
We offer an advanced course of Digital Marketing in Jaipur for graduates and working professionals to kick start their career right away.