Best Job Oriented Courses After 12th
Trending Technology January 30, 2020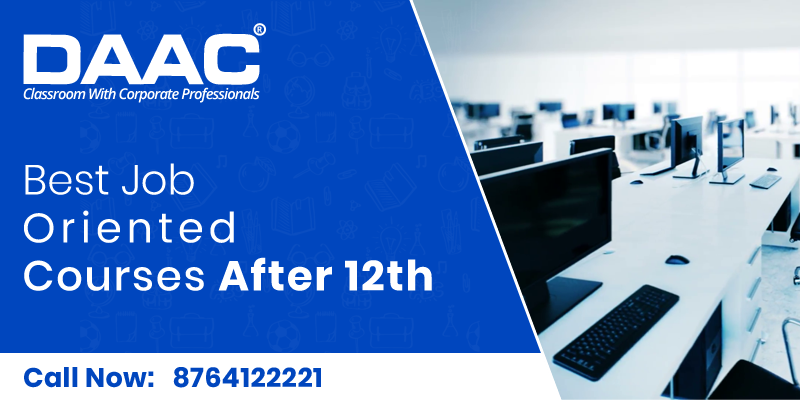 Although there is an abundance of jobs in the market, however, every company is only willing to hire the best in the industry. Therefore, the situation for a mere average student becomes complex in this competitive scenario. In lieu of the same, many courses like website designing, photoshop editing, C++ training, and others have emerged to offer better opportunities to every student especially after 12th class.
Doomshell provides website development coaching in Jaipur along with other courses like digital marketing, web designing, and mobile app development to help students out after 12th.
But, how can a student figure out the best course suiting to his/her aptitude? Here is a list of tips that can help you sort out the best course after 12th that will help boost the career of any student:
Do a SWOT (Strength, Weakness, Opportunity and Time)
This is one of the most common ways to know the strengths and weaknesses as well as the time and opportunity limitations against those outputs. Ask any student to conduct their strengths and weaknesses in a subject or in a course against their career opportunities and the average time to reach their goals. The most suitable result will definitely be the best choice for any student.
Take an Aptitude Test
Conduct an aptitude test for a student to help them decide a career. If you are a student then browse the web to check out the most suitable career aptitude test and attempt it to know the most suitable choices for your career. If you are unable to find one then reach out to a counselor at Doomshell, a web design, and development company in Jaipur and showcase your achievement to know the most suitable career.
Figure Out Your Interests
Nowadays, there is almost anything related to your interest available on the web. For example, if you have a keen interest in social media then you can select social media management as a career option. Similarly, if you have a keen interest in online marketing, ads, campaigning, etc then you can pursue a course in digital marketing and learn all about email marketing, SEO, SMO, PPC, content marketing, etc. If you'd like to know more about such courses then check out digital marketing courses, and web designing courses offered by Doomshell Academy in Jaipur.
Compare all the Promising Career Options
At this point, digital marketing, web designing, and basic computer courses are three of the most promising as well as job oriented courses in the industry. Let's have a look at them at a glance:
Digital Marketing Course
Like mentioned earlier, digital marketing courses usually entail learning about Search Engine Optimization (SEO), Social Media Optimization (SMO), Pay per click (PPC), and mobile, email and content marketing. Avid learners can get a grasp of these courses within a period of 6 to 10 months and make a substantial career growth. Although all online free courses can be very promising and offer details about these subjects however many reputed companies still prefer if a course is completed from an institution. Doomshell a web design, and development company in Jaipur offers great insight to students into these courses so they can make their mark in the industry.
Website Designing Courses
If you have a keen interest in website designing and development, then doing a web designing course will be apt for you. However, covering up the course might take at least 18 months to 3 years depending on the type of course you select. Learning at Doomshell which provides website development coaching in Jaipur will not only offer you all the best suitable options as per your aptitude but also help you enter into one of the most demanding and promising careers in the market. Be it an IT company or a health organization, everyone needs a website to get attention in the market. Completing the course will help you explore the right methods, approach and marketing need to build a powerful and customer-centric website.
Basic Computer Courses
After completing 12th there are also many career options for those who do some of the basic computer courses like Tally, animation, MS-Office, data entry operator, mobile app development, etc. Doing any such course will immediately boost the career of the student. However, there are different time durations for each course depending upon the options a student chose based upon the career options he/she is willing to follow.
Tips for Students Seeking Jobs After 12th
Follow the saying "Practice before you preach". Take a training course or join as a trainee at a company to learn more about the career options before moving ahead in any direction.
If you'd like to know more about digital marketing courses, mobile app development courses, web designing courses or any other course that will help you boost your career, then contact Doomshell Academy in Jaipur.